More than 500 young musicians from Birmingham are to take to the stage at the Midland Arts Centre Outdoor Theatre in an all-day free celebration on Monday, May 8 as part of the region's King's Coronation celebrations.
Supported by Music for Youth and The Arts Council England, the musical celebration will feature a wide range of musical genres.
Birmingham charity Services For Education – whose Music Service delivers music tuition to adults and children alike – has conceived the celebration which will feature, amongst others, Birmingham Schools' Junior String Orchestra, Birmingham Schools' Concert Band and Birmingham Schools' Wind Orchestra/Symphony Orchestra combined ensemble.
The event, hosted at Midland Arts Centre's Outdoor Theatre in Cannon Hill Park, Moseley will open at 10am with free tickets bookable in advance online through Eventbrite for each of the four sessions. The performances will also be available on screens throughout the Mac.
Charlotte Buxton, Deputy Head of Music Service at Services For Education – who is managing the event – said: "We are excited for a fantastic day of music that will cater to every taste. It will be a great day-long performance with virtually non-stop music.
"We have been overwhelmed by the number of young musicians who wish to take part, and the number of supporters who plan to attend to mark this historic occasion. It's also a fantastic opportunity to showcase and celebrate our Services For Education ensembles: one of the best kept secrets in Birmingham."
ENDS
Detailed programme:
Morning Session 1
10am-11:30am
Birmingham Schools' Junior String Orchestra
Birmingham Schools' Training Brass Band
Ark Boulton Academy
Queensbridge School
Morning Session 2
11:45am-1:15pm
Birmingham Schools' Concert Band
Birmingham Schools' Double Reed Ensemble
Birmingham Schools' Training Guitar Ensemble
Afternoon Session 1
1:30-2:45pm 
Birmingham Schools' String Sinfonia
Birmingham Schools' Brass Band
Birmingham Schools' Steel Band
Bishop Vesey's Grammar School
Afternoon Session 2
3:00pm-4:30pm
Birmingham Schools' Training Wind Orchestra
Birmingham Schools' Wind Orchestra/Symphony Orchestra combined ensemble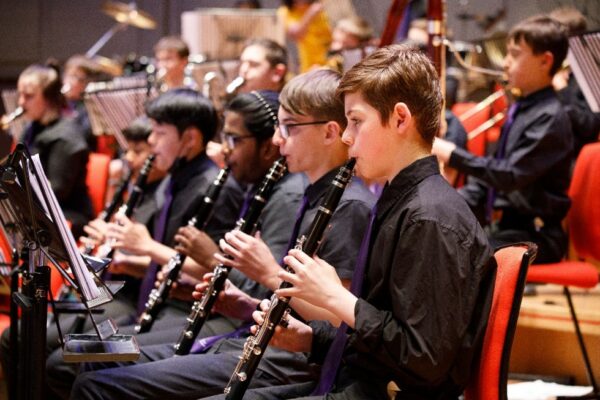 Young musicians from Services For Education's ensembles will be amongst those playing at the Mac on May 8
About Services For Education:
An education and training charity based in Birmingham, Services For Education brings music and learning to life. It is the recipient of several major awards including as a finalist and winner of previous Music and Drama Awards. It has recently been recognised in the Asian Chamber of Commerce Awards and The Charity Awards.
Services For Education employs more than 200 staff delivering music tuition to children, and expert training and development to teaching and school support staff. Part-funded by the Arts Council, England it also has its own fund-raising and subsidised commercial operations.
Services For Education's Music Service, one of the largest in the country, works with 93% of Birmingham schools and each year teaches music to nearly 32,000 children – as well as running 97 free ensembles. It provides 27,000 musical instruments free-of-charge so all children have access to playing and enjoying music together and its Youth Proms at Symphony Hall give 4,000 young musicians the opportunity to perform to an audience of more than 10,000. It also runs music schools, has a world music department, provides private music tuition to all ages as well as working with partners to deliver music and choral opportunities to disadvantaged and vulnerable groups. Its award-winning Online Music Educational Resource was completed and launched free to schools in 2021 to appeal to a young IT-connected audience attracted to learning online and to complement traditional tuition.
Services For Education's School Support Service provides expert training and development to teaching and support staff in nearly 600 schools in the West Midlands and increasingly across England, to improve practice and ensure teachers are best equipped to respond to developments in curriculum and policy. As a leading provider of safeguarding education, Services For Education works with 400 schools delivering training in-person and on-line. It also delivers innovative programmes to support the physical and emotional health of children and young people through Health for Life and other community-based activity.
Services For Education's Annual Review for 2022 is available here.
Issued on behalf of:
Services For Education
Unit 3 Holt Court
Holt Street
Birmingham Science Park
Aston
Birmingham B7 4AX
For further information on Services For Education:
David Clarke, Clarke Associates, (Public and media relations, Services For Education)
E: david-c@clarke-associates.co.uk;
M: 07808 735255