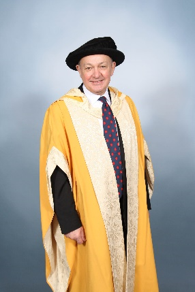 We are extremely proud to hear the news that John Clemson MBE, previous Head of the Music Service, has been awarded Honorary Doctor at Birmingham City University for his services to music education and lifetime of service to the city of Birmingham.
Citation: John Clemson
Pro-Chancellors, Vice Chancellor, distinguished guests, colleagues, graduands. Today we confer the degree of Honorary Doctor of Birmingham City University, honoris causa, on John Clemson. Ladies and gentlemen, it's not difficult to understand why music has enormous benefits for a child's development. Study after study has shown that learning to make music improves brainpower; builds confidence; teaches patience and self-discipline; encourages self-expression; above all, perhaps, it allows access to the joy of creating unique moments of empathy with other people. So no: it's not difficult to understand those benefits; but strangely enough, perhaps the difficult thing is to ensure other people do understand them, and then do something about it. If you're looking for an example of someone who has taken on that difficult challenge with flair, determination, and an unwavering commitment to the welfare of children across our region, you need look no further than the man who for fourteen years was Head of the Birmingham Music Service, our guest of honour today, John Clemson.
Birmingham born and bred, John studied cello at what was once was called the Birmingham School of Music but now glories in the name of the Royal Birmingham Conservatoire, one of the many jewels in the crown of our University. Qualifying to diploma level, he subsequently took his Cert Ed and became a cello teacher, working with the Solihull Music Service while freelancing as a musician in his own right. In the mid-1970s he joined the Birmingham Music Service and took up the double bass as well as the cello, which probably caused a problem or two when he had get the bus.
He was, if you'll forgive the pun, instrumental in introducing the minibass to the music classroom, and many of his former pupils are now found playing in bands and orchestras around the country.
John's appetite for leadership and organisation came to the fore in the 1990s. He took on ever-greater responsibility in the Birmingham Music Service until, in the year 2000, he was appointed to lead it. Immediately he saw the need to broaden the Service's remit and engagement. During his fourteen years in charge, the number of pupils supported each week through instrumental or choral activity increased fourfold. The Service became more responsive to our city's wide range of cultural traditions and – a signal of success you'll appreciate – earned high praise from OFSTED as an organization 'strongly managed and well led by a man who is highly regarded as a tutor and leader'. Now, the Service is recognized as one of the most influential providers of music education in the country.
National recognition for its former leader has naturally followed. John's expertise was recognized by his peers via service as nationally elected representative and then secretary of the Federation of Music Services. He served a ten-year term as Chair of the British Suzuki Institute School Committee. An array of school governorships and advisory board memberships speak for the value society places on his experience, and his immense willingness to share it with others. All those qualities were rightly recognized in two awards you feel must be especially close to his heart: an MBE in the 2016 New Year's Honours List; and an Honorary Fellowship of his alma mater, our own Royal Birmingham Conservatoire.
It is a matter of great pride today that we award this yet higher honour, which recognizes not just a lifetime of service to our city but the longstanding partnership he has nurtured with our University and the many students he has helped into careers of their own.
Legacies are, of course, very tough to sustain. In March last year, the BBC reported a 21% decline in state school music lessons over the past five years. Over the same period there was a 7% increase in music lessons in private schools. One in five primary school teachers reported there was no regular music lesson for their class; only 12% of schools in deprived areas have an orchestra, compared with 85% of independent schools. You can see where that trend will take us. You can also see why our country needs visionary, committed souls like our guest of honour today to show how our system can be more inclusive, more fair, more beneficial for the needy many and not just the privileged few.
So Pro-Chancellors, Vice Chancellor, distinguished guests, colleagues, graduands, it gives me great pleasure to invite the Vice Chancellor to confer the degree of Honorary Doctor of Birmingham City University, honoris causa, on John Clemson.