SFE Religious Education Adviser Dr Simone Whitehouse-James Responds to the Current Crisis in Israel/Palestine, Sharing Key Messages from Birmingham's Faith Leaders
There is much to be concerned with when hearing or reading the news at the moment. It demonstrates the fragility of relationships and the ever-pervading ripples that emerge as a consequence. In a super-diverse city with global dimensions, there are many people of differing viewpoints, beliefs and worldviews affected.
Even though we are faced with such bleakness, there are small acts of human kindness taking place. One such example has gone viral on social media – one neighbour supporting another, one neighbour making a cake for another, two women meeting to talk. Nothing extraordinary, you might say, however this act of kindness has taken place since the escalated events in Gaza. In this case a Jewish woman made her Muslim neighbour baklava and tea. Time was spent together, relationships deepened, a small act with larger ripples:
Jewish woman shares heartwarming post about meeting with her Palestinian neighbour
The diverse faith leaders in Birmingham have met this week to discuss the current events in Israel and Gaza. They have pledged to continue to stand together and to reach out to each other in these times.
The faith leaders group in Birmingham emerged from another single and significant act of kindness a number of years ago. Rabbi Dr. Leonard Tann's act was a simple walk to a place of worship. But to put this act into context, as a Jewish leader he walked to Central Mosque the day after the September 11 attacks in 2001.
Muslim leaders had received abusive calls in reaction to the events in New York and Rabbi Tann wanted to show his solidarity. Other faith leaders joined in. One simple act and yet the Rabbi's legacy continues to meet day:
Since then the leaders have met regularly to discuss events and faith in the city. They have met again this week in the light of ongoing events and have issued the following statement: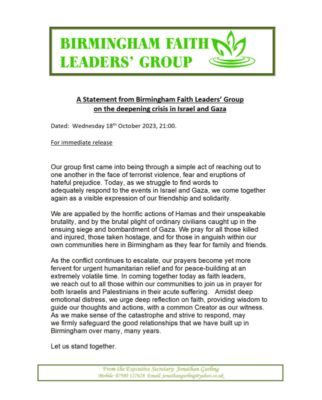 With many crises, there is no course or a Teachers' Standard to train or hold teachers to account on how to support pupils in their care in the light of such events. However, what the profession does at its best is the listen to pupils, to answer questions, to ask questions, to explore and enable discussion. Isn't that what 'good' education is about? And to address those wider issues of reason, exploration, accountability and informed judgement.
Solutions Not Sides is an educational programme which gives teenagers the opportunity to discuss the Israel-Palestine events in a safe environment. With a 'no to violence' as one of its core principles, the Solutions Not Sides team explore a number of themes around the current events: Journalism in conflict; Mental health and emotions; checking facts around fake news; negotiations; UK Activism; nationalism. The resources are sensitive and helpful in response to the escalating situation in the Middle East.
For more information: www.solutionsnotsides.co.uk
As the faith leaders in the city have agreed to continue to stand together during this time, teachers need to support our pupils to develop the skills of resilience, to be open and to continue to ask questions. In that way they can also think about their human development and enable the seeds of peace to begin with them.
About the Author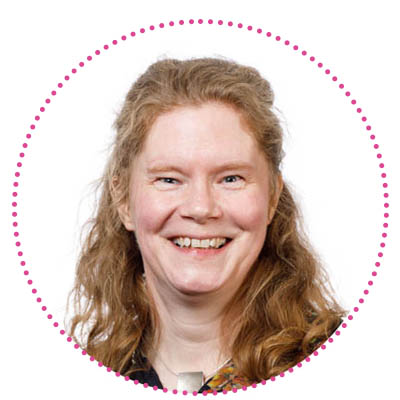 Dr Simone Whitehouse-James - Adviser, Services For Education
Simone qualified with a PGCE in Religious Education following a Bachelors degree in Theology. Simone went onto lead RE in two demographically differently schools in Birmingham before working for the city's advisory service.
Simone works in two areas: Religious Education and Early Career Teachers. Working in Religious Education Simone engages with faith groups and advises the Standing Advisory Council for RE (SACRE) on RE and Collective Worship. She has worked with others to design lesson plans for the Faith Makes a Difference website to support schools to implement the Birmingham Agreed Syllabus. She has worked on drafting the new Agreed Syllabus.
Simone also works with primary and secondary teachers and school governors. Working on behalf of the City Council as the Appropriate Body for ECTs Simone works with senior leaders and tutors to support their ECTs through induction.
Simone has recently been awarded her PhD – demonstrating her love of learning and Religious Education!