Originally published on our charity website: www.sfecharity.co.uk/jpf-first-aid-partner-with-services-for-education/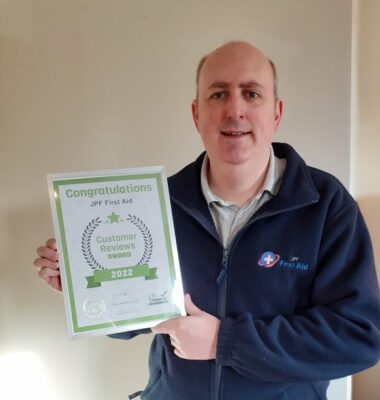 We are delighted to introduce and welcome JPF First Aid who have joined Services For Education, in partnership, supporting the growth of their own business whilst in return supporting our charity – thank you!  
JPF First Aid support people to gain the right skills to help others when in need, providing courses at cost effective prices! JPF First Aid is available to help companies, schools, students, as well as the general public including groups such as; church and sports groups, to obtain the required knowledge, skills and also, support in gaining confidence to be able to act when situations arise. 
Please visit JPF First Aid to see all of the courses available, then call us on 01543 398370 quoting code JPF10SFE to book. Every time the code is used JPF First Aid will donate 10% of your cost to Services For Education.
To find out more about JPF First Aid, view their flyer or visit their website.
Why have you chosen to partner with SFE? 
As I currently work within educational settings providing courses to staff and pupils, what better way to do this which also gives back to a charity in return. Following successful discussions with SFE it quickly became apparent that they were the charity to support by the great work that they do. 
What are the benefits to you? 
This will help JPF First Aid to support other educational settings by providing training courses to not only staff but to pupils too where this would be of interest, especially as first aid now forms part of the curriculum and pupils gain personal skills in return. This may even support other businesses knowing that a great charity is being supported as a result.  
What is the nature of your business?
JPF First Aid as a training provider, delivers a number of training courses that can be delivered to people of different ages. This includes First Aid at Work, Paediatric First Aid, and Basic Life Support to name but a few amongst the range of regulated first aid courses that can be provided.
As well as this, courses including Health and Safety, Fire Safety, Manual Handling and Mental Health qualifications are also available. Some of these courses can also be delivered as part of an online distance learning delivery if this would be a preferred learning style to meet your needs.  To find out more, view our flyer or visit our website.
Who are you looking to work with?
It would be great to work with any organisation that would benefit from any of the courses that JPF First Aid provides where people can gain the necessary knowledge and skills required or needed to learn these all-important subject areas.   
If you are interested to find out more about Services For Education and to discover how you could become one of our partners, please use our form to send an enquiry: 
contact us
View our latest annual report and impact here.