Originally published on our charity website: www.sfecharity.co.uk/about-our-partners-normans-musical-instruments/
Normans Musical Instruments have been a long-standing affiliate partner of Services For Education for several years.
Affiliate partnering supports business growth and in this case gives back the SFE Charity – thank you very much!  
Normans Musical Instruments is a family run business with Education at its core. Established for over 60 years, Normans have become the 'go to' specialist for Musical Instruments, supplying Schools, Music Services, Teachers and Parents, offering expert advice alongside tried and tested products.
"Our warehouse holds thousands of lines to ensure our customers are offered a great choice of products, from all leading manufacturers. We are proud to consider ourselves as a 'one stop shop' for supplying educational instruments worldwide, ensuring expert advice and service is always on hand" 
Visit Normans.co.uk and use code SFE5 to save 5% on your order. Every time this code is used Normans will donate to Services For Education.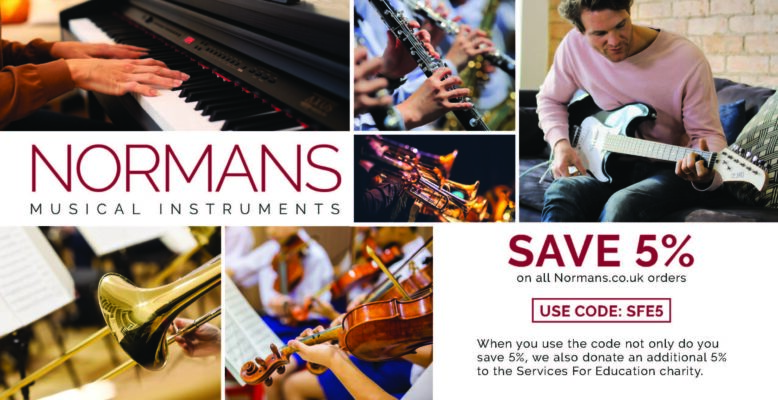 Why do you partner with us? 
Services for Education has been a longstanding partner of ours and promotes something that all of us at Normans hold close to our heart, Music Education. 
We believe that Music learning is an important and crucial part of a child's development because of the many social, educational and life skills it brings, and we are proud to be a partner of SFE who are out there, teaching and giving these opportunities.  
SFE has a key understanding of the importance of partnerships and collaborations, and so we get a large platform to promote our brand/services to thousands of parents, which helps us grow our customer base. 
Why would you encourage others to partner with SFE?
No matter your business sector I'd encourage any company to partner with SFE because first and foremost you are supporting a great charity that is giving children opportunities to learn and be a part of Music, which is proven to give significant life and social skills.  
Not only will you be supporting an extremely impactful charity, but you will be exposing your brand to thousands of new parents each year, as well as to other business', therefore increasing your partnership network.  
We as a business have certainly seen positive growth from our collaboration with SFE and I'm sure others would see the same. 
If you are interested to find out more about Services For Education and to discover how you could become one of our partners, please use our form to send an enquiry: 
contact us
View our latest annual report and impact here.